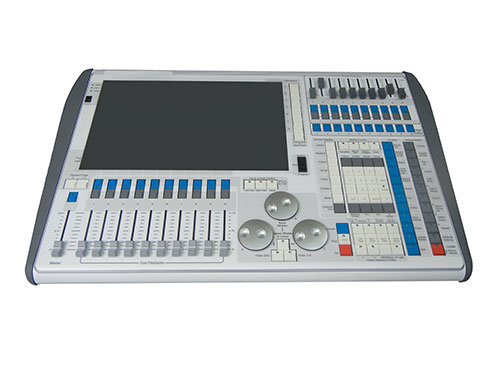 LM Tiger Touch Controller
LM Tiger Touch Controller
LM Tiger Touch Controller
Technology Parameter
*Using powerful Titan Titan operating system.
*Dual core processor, 60GB SSD drive, 2GB of memory.
*Uninterruptible Power System (UPS)
*Support Chinese menu display and built-in many languages.
*A built-in 15.4 inch touch screen. (external 17-inch screen optional)
*8 DMX output port, 4096 DMX channels. (can be extended to
12 DMX output port, 6144 channels)
*Support Artnet and can be extended to 12, DMX output 6144
*channels. 10 macro buttons, can edit any program.
*Putting 20 playback, support 1000 virtual replay.
*Powerful CMY palette.
*Support graffiti type handwritten named function
*Support CITP protocol and can preview server or digital
modulation of built-in material.
*The built-in library of thousands of lights, and built-in
lights library editing software.
*Built-in Visualiser stage simulation software,support for video
*Provides MIDI time code control. can be used for remote control.
*Built-in pixel mapping generator and a built-in graphics.
*Powerful Titan systerm much more humanized as previous Pearl,
more refined function,abandunt extension.
*basied on its classic Pearl systerm, add more refined options for us.
*Weight:N/W: 15KG G/W: 40KG
*Volume:83*63*54CM
*Packing:Flight case, User Menu, LED light, 8GB USB Drive, Dust-cover, Power cord
*wattanty for 1 year.