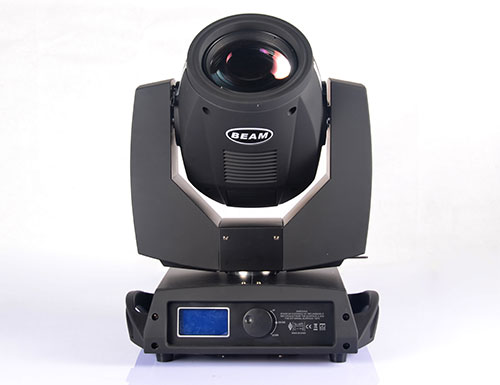 LM-B230 7R moving head beam light
LM-B230 7R moving head beam light
Technology Parameter:
Main features:
LM-B230 is one small size and compact beam light.Also have top efficiency, high integration, and fast speed characteristics, Combined with-top quality materials home and abroad.
1 color wheel with 14colors+white, 1 metal gobo wheel with 17 gobos+white. Compatible with double prisms: 8 prismPrism maximum open angle can up to 30°.
OPTICAL SYSTEM
Philips 230w Lamp,8000K
Reflect bowl is coated with multi-layer, efficiency and reflective coating.
Beam angle 0-30° (Including spot, frost & prism), in 2.2° the beam effect is the best
Electronic focusing.
DISPLAY SYSTEM
Display mode 16 million pixel LCD touch screen, with sleep mode function
Lamp's life & device using time is displayable.
With Automatic error tested function
Two control mode: touch-wheel mode and non-contact, convenient to operate and read menu
Test device: To facilitate the use of manufacturers and users, through the advanced menu settings, password access, the lighting of the horizontal, vertical, focus, strobe, color wheel, gobo and other functions to adjust the adjustment.
CONTROL SYSTEM
International standard DMX512.
20 control channels.
DMX, random, auto, voice and sleep mode.
Using high-tech constant current board,36V / 24V voltage.
Built-in high -quality magnetic components ensure stable signal transmission.
Data line antifreeze, in line with CE20 / 22 standards.
POWER SYSTEM
Rated power: 500W, AC110-240V/50-60HZ.
constant current PCB board, 600W/380V ballast, power fluctuations (± 50W) works normally.
Ground wiring in accordance with international standard.
Built-in high -quality lighting power filter to ensure stable signal transmission.
Power line antifreeze, in line with CE20 / 22 standards.
STROBE SYSTEN
Independent double shutter, 0-14 times / s
0-100% linear dimming.
The lamp power is automatically reduced by 40% when it turn off in 5 seconds
Remote control switch and boot light function for bulb, default as remote control.
COLOR SYSTEM
Color wheel: 1 color wheel with 14colors+white
Semi- color, full-color, single-color gradients, changeable fast forward and reverse direction rotating rainbow effect. Automatic error correction at any angle with hall, magnet positioned.
Color wheel positioning: with Hall, magnet positioning and automatic angle correction function.
GOBO SYSTEM
1 Metal Gobo wheel:17gobo+white
Four class beam angle adjustment, can achieve water wave, shake, random movement and positive and negative direction of the slow conversion results.
PRISM SYSTEM
Independent 8 and 24 prism.
The prism rotating angle is adjustable, up to 30°, Combined with gobo function.
COOLING SYSTEM
Frame material: light and excellent aluminum material, good heat dissipation
Fan Qty: 2 mute cooling fans in the bottom of the light, 3 intelligent &mute fans for the lamp cooling.
Thermal protection: Built-in overheating protection, the fan's speed will increase and decrease automatically according to the temperature.
ROTATION SYSTEM
X/Y motor: Fast and quiet 3-phase motors.
X/Y position: Encoder& Hall components position and advanced scanning memory function.
Pan: 540°(16/32 bit), 2.12 ° / step, fine-tuning accuracy 0.016 °, rotation time 2secs
Tilt 260 °(16/32 bit), 2.12 ° / step, fine-tuning accuracy 0.016 °, rotation time 1 sec
DEMENSION
Body size: 350X320X505 mm
N.W: 24 kg